"Tell me and I forget. Teach me and I remember. Involve me and I learn."
~ Ben Franklin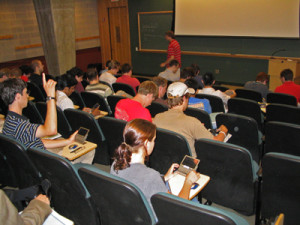 IFREE supports educational programs and workshops are based on "learning by doing." It sponsors innovative, hands-on participatory learning in experimental economics in a variety of settings at several universities.
Through interactive experiments, participants explore both the economic theory and its practical application to the visible good afforded by personal social exchange and the invisible good generated through the extended order of markets in which people do not necessarily know one another.
IFREE-supported programs enrich the intellectual development of high school students, undergraduates, and graduate students, as well as a range of interdisciplinary students who participate in extended discussions and the development of team research projects.
Visit the Workshops and Conference page to see this philosophy in action!