June 15-21, 2014 
The Economic Science Institute hosted a one week-long workshop on experimental economics for 30 high school students from all over the nation. The workshop is a rigorous academic experience taught by Kyle Hampton, Ph.D., Associate Professor of economics and director of the Center for Economic Education at the University of Alaska, Anchorage,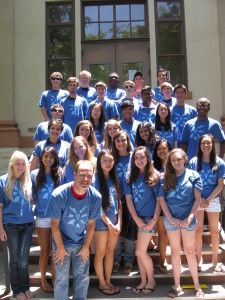 For those high school students who might not have had the opportunity to study economics in their high schools, the objective of this workshop is to expose them to and get them interested in the foundations of economic analysis using experimental economics. A subset of the students may have already taken economics classes, and for those students, the goal is to cultivate their interest in economics and introduce them to economics as an observational science with new topics, problems, and experiments. The workshop does not assume any previous study in economics.
Topics covered in the program included game theory, prisoner's dilemma, social dilemmas, Coasian bargaining, public goods, trust and reciprocity, auctions, innovation and market design. Students learned how to apply the scientific method to economic behavior and work with their peers in forming solutions to specific economic problems. In addition, students participated in experiments and earned cash!
Here is what some participants had to say about the 2014 workshop:
"My interest in economics has been rekindled."
"Kyle is a great teacher! No other teacher has as much charisma or personality. Highly recommend this workshop and am grateful that I was able to participate in it."
"Kyle is an awesome teacher who truly keeps you captivated the whole time. He is extremely knowledgeable and entertaining. This workshop teaches you about major economic disasters such as the 2008 financial crisis and what caused them. Taking this workshop has enlightened me to the economics affecting every decisions made in life. I have learned more in these 5 days than I have learned in any class in high school about life. Leaving this class, I know much more about economics."
For more information on the workshop and upcoming dates hosted at the Economic Science Institute, please visit the Economic Science Institute's website.