The 22nd Annual Visiting Graduate Student Workshop was held at Chapman University on January 10-14, 2017.
The Economic Science Institute at Chapman University hosted 26 doctoral students from around the world for the 22nd Visiting Graduate Student Workshop in Experimental Economics.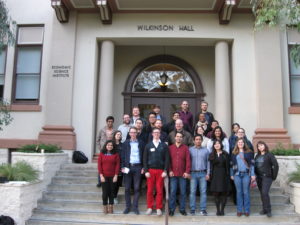 In a series of 10 sessions, the students first participated in an economic experiment earning cash as a naive subject would. Afterwards, students discussed with the faculty member the research questions and methods of the project. Participants had the opportunity to interact with the faculty throughout the week. The workshop introduces students to experimental economics by exposing students to the practical skills needed to run experiments as well as the deeper philosophy of economics. The students had the opportunity to attend a couple of talks at the Experimental Finance Conference also taking place at Chapman University.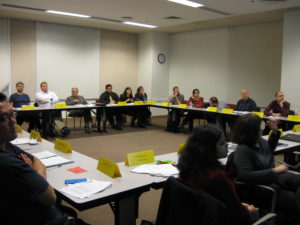 The topics of the modules covered a broad range of applications, including macro institutions, virtual worlds, game theory of contests and social norms in the lab. Vernon Smith and Bart Wilson, the workshop co-director, also led Socratic roundtable discussions for which the students had in advance read essays and selections of writings by W.S. Jevons, F.A. Hayek, and Vernon Smith.
The workshop topics/experiments and speakers were:
Choice Architecture of Investments – Eric Schniter, Chapman University
Contests – Dan Kovenock, Chapman University
Hyperinflation – Kevin McCabe, George Mason University
Cognitive Load – Cary Deck, University of Alaska Anchorage and Chapman University
Experimental Methods – Nathaniel Wilcox, Chapman University
Endogenous Institutions – Bart Wilson, Chapman University
Trade, Trust, & Institution – Jared Rubin & Aidin Hajikhameneh, Chapman University
Social Norms in the Lab – Diego Aycinena, Universidad Francisco Marroquin
Macro Institutions – Gabriele Camera, Chapman University
Colloquium Discussion – Vernon Smith and Bart Wilson, Chapman University
Required Readings
Colloquium Discussion
F.A. Hayek, American Economic Review, "The Use of Knowledge in Society," (1945)
F.A. Hayek, The Essence of Hayek, Chiaki Nishiyama & Kurt R. Leube (Ed.), "Competition as a Discovery Procedure," Chap. 13
William Stanley Jevons, The Theory of Political Economy, "Definition of a Market & Definition of a Trading Body," Chap. IV, (London: Macmillan & Co., 1888, 3rd Ed.)
Vernon L. Smith, Economic Inquiry, "Markets as Economizers of Information: Experimental Examination of the "Hayek Hypothesis," (1982)
Here is what some participants had to say about the workshop:
"I would recommend this workshop to others, especially because the faculty is very knowledgeable and helpful and because getting to participate in experiments provides a new and valuable perspective on economic procedures and methodology."

"I will definitely recommend this workshop to other students with interest in Experimental Economics for several reasons. First, the quality of the faculty is fantastic. In addition, faculty is extremely available to give feedback on research ideas and to pass on knowledge. Also, Chapman University is a great environment. I did not know it personally, even if I hadn't heard a lot about it, and I am very positively impressed. Finally, participants are a group of truly brilliant and friendly people and I hope to keep connections I made here for a long time."

"Besides the great lectures and excellent sessions with some of the best experimental economists, the workshop provides an excellent opportunity to experience the laboratory environment and meet and exchange with aspiring experimental economists from different areas of research (health economics, public finance, management science etc.). I am 100% certain that it is a valuable addition to the career of all participants."
For more information on the workshop and upcoming dates hosted at the Economic Science Institute, please visit the Economic Science Institute's website.