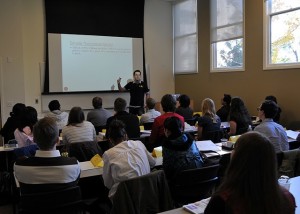 The 16th Annual Visiting Graduate Student Workshop in Experimental Economics offered knowledge and experience opportunities for students as beginners as well as those practiced in running experiments.
After an evening reception held at the Double Tree Hotel in Anaheim/Orange County, the opening day began early with a shuttle ride to the Economic Science Institute at Chapman Institute. Lectures and group discussion were interlaced with experiments on topic throughout the week. Off-workshop time during breakfast, lunch, dinner and down-time activities provided students ample opportunity to learn more about one another's work and to network.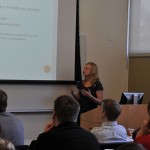 Topics at the Workshop
Introduction to Experimental Economics: What are they and why do we do them?
Professor Bart Wilson, Chapman University
Experiments in Electric Power
Professor Stephen Rassenti, Chapman University
Asset Market Bubbles and Financial Crises
Professor Steve Gjerstadt, Chapman University
Group Decision Making
Professor Rob Kurzban, University of Pennsylvania & Chapman University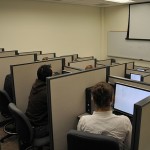 Contests
Professor Roman Sheremeta, Chapman University
Endogenous Institutions
Professor Bart Wilson, Chapman University
Dilemmas
Professor Matthew McCarter, Chapman University
Intermediaries
Professor Timothy Shields, Chapman University
Experimental/Econometric Measurement of Preferences
Professor Nathaniel Wilcox, Chapman University
Collaborative Experiments in Virtual Worlds
Professor Kevin McCabe, George Mason University
Student Presentations:
Bing Jiang
Luba Petersen
Meryl Isobel Motika
Justin Weinhardt
Do you have any pictures of the workshop? Post your pictures on our Facebook page here!